200 Club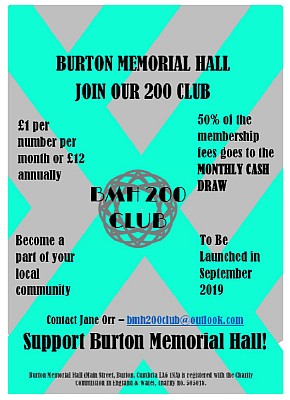 The new 200 Club was started in September 2019 as a means of raising funds to help with the running of the Hall.
Initially, the draws were made at the Library Coffee Morning on the first Monday of each month (except Bank Holidays), but since the outbreak of COVID-19 began which has disrupted such activity in the Hall, draws were suspended from March 2020 through to September 2020, although subsequently drawn en masse.
Membership of the 200 Club costs £12 per year per number, which can be paid by annual or monthly standing order. You may request as many numbers as you like, subject to capacity in the Club. More details are available from the Club Administrator who may be contacted via our Contact page.
Previous months draw winners may be seen here.