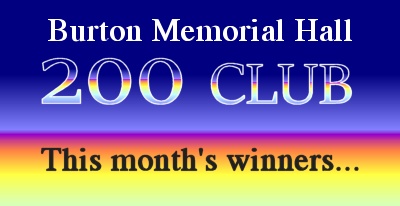 200 Club Draws - March 2022
BURTON MEMORIAL HALL 200 CLUB
The winners of the March 2022 draw are as follows:
Your prizes will be with you shortly.
Cost £12 per number for a year (12 draws).
Why not buy a year's subscription for £12 as birthday gift for a family member or friend?
Or if you already have a number, why not buy another and increase your chances of a win?
THANK YOU TO ALL EXISTING MEMBERS FOR YOUR CONTINUED SUPPORT!