Reopening Thursday 3rd September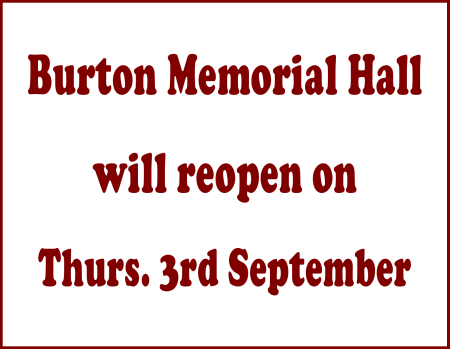 Due to a late change, the Memorial Hall will reopen on Thursday 3rd September (not 1st Sept as in Burton News).
We look forward to welcoming you back into the Hall. Please would you note the following requirements to ensure the Hall is kept safe for all.
You must wear a face covering which must be kept on whilst in the Hall, unless you have a valid medical exemption or are taking part in an exempt activity, i.e. sport, exercise or dance class.
You must sanitise your hands on entering and leaving the Hall. Automatic sanitiser dispensers are located inside each entrance. Place your hands below the dispenser to trigger the gel. Manual hand sanitiser pumps are also placed in each room and toilet for your use at any time during your hire period.
Maintain a 2m distance as much as possible, and not less than 1m at any time.
The north end lobby is divided, stay left of the dividers to access the Reception Room and its toilet, go right of the dividers to access the Club Room and its toilet. These toilets are now unisex. Please only use the toilet allocated for your hired room.
For hirers using the Main Hall only use the south end entrance. There will be no access to the Main Hall from the north end lobby.
The south end toilets are for the use of Main Hall hirers only. The gents has a lock inside the outer door and only one cubicle is in use. The ladies has two cubicles and one handbasin in use. Please observe social distancing when using the facilities.
Each room has a large tub of virucidal wipes for hirers to clean down touched surfaces, switches, door handles, chairs and tables at the start and end of their hire period. Used wipes along with other waste must be placed into a white bin bag (a supply will be available in each room) and the bag must then be tied off and put into the BIFFA bin at the north end of the building on leaving.
Each hirer is required to record the name and a contact number for everyone attending their hire session. The completed sheet should be deposited in the wooden boxes beside each door on leaving the building please.
We have made the building as COVID-19 secure as we can, but we need your help to keep it that way, so please observe the restrictions to keep everyone safe and allow the Memorial Hall to remain open.
If you have any questions, comments or suggestions about any of the new measures please contact the Management Committee via the send email link on our
Facebook page
or via the Message Us button at the foot of this website.