200 Club Draws: February 2021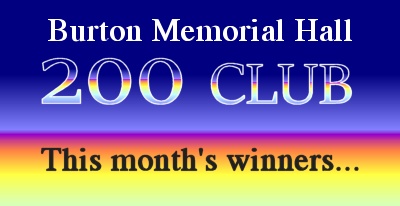 BURTON MEMORIAL HALL 200 CLUB 
The winners of the February 2021 draw are
1st – K TAYLOR - £22
2nd – W ROBINSON - £13
3rd – M SCOTT - £9 
You may have noticed that the prize monies are gradually increasing. 
As more numbers are purchased, so the prize money rises.
Buying a number brings the hall much needed funds and gives you the chance of a share in the prizes!
Anyone wishing to join the 200 Club, please contact J Orr on This email address is being protected from spambots. You need JavaScript enabled to view it. or call 01524 784 939
Cost £12 per number for a year (12 draws)
THANK YOU TO ALL EXISTING MEMBERS FOR THEIR CONTINUED SUPPORT!