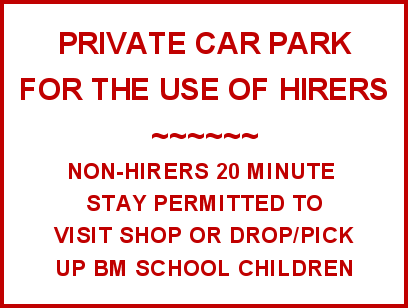 Use of the Hall's Car Park
We would like to remind residents and visitors that the Memorial Hall car park is for the use of people who have booked the Memorial Hall for a function or event. It's unfair on them if they arrive to find insufficient space in the car park because it is already full of vehicles belonging to people not attending an event at the Hall.
We don't mind people parking in the Memorial Hall car park for short period (i.e. up to 20 minutes) whilst they pop into the Village Store or deliver/collect children to/from school, but we do not want to see the car park occupied regularly as general residents' or visitors' parking during the time the Hall is open for use. 
Please be considerate of others. Don't use the car park when it is needed for a booking or an event. If hirers cannot park when they arrive then they will stop booking the Hall, which will put its future for all users at risk.
If you run a B&B, rent out a holiday cottage, or are selling your home, please explain to your guests or potential buyers that the Memorial Hall car park is a private car park and not for their general use.