200 Club Draws - June 2021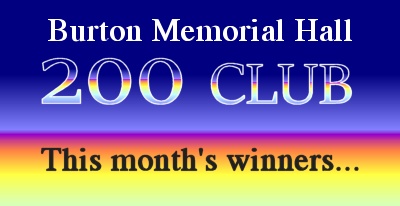 BURTON MEMORIAL HALL 200 CLUB
The winners of the June 2021 draw are:
1st – R Evans- £22
2nd – T Ray - £13
3rd – A Driver - £9
Your prizes will be with you shortly.
Anyone wishing to join the 200 Club, please contact J Orr on This email address is being protected from spambots. You need JavaScript enabled to view it. or call 01524 784939. Cost £12 per number for a year (12 draws).
Why not buy a year's subscription for £12 as birthday gift for a family member or friend?
Or if you already have a number, why not buy another and increase your chances of a win?
THANK YOU TO ALL EXISTING MEMBERS FOR THEIR CONTINUED SUPPORT!