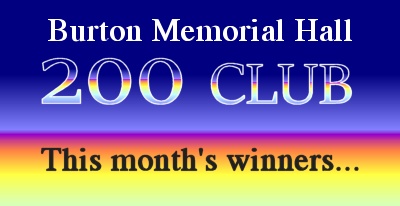 200 Club Draws - October 2021
The winners of the October 2021 draw are:
1st Alison Flanders – £24
2nd Jenni Ross – £14
3rd Tom Beck – £9
Your prizes will be with you shortly.
The monthly draw is now taking place at the Library Coffee Morning on the first Monday of each month.
Why not come along and enjoy the event?
Anyone wishing to join the 200 Club, please contact J Orr on This email address is being protected from spambots. You need JavaScript enabled to view it. or call 01524 784939. Cost £12 per number for a year (12 draws).
Why not buy a year's subscription for £12 as birthday gift for a family member or friend?
Or if you already have a number, why not buy another and increase your chances of a win?
THANK YOU TO ALL EXISTING MEMBERS FOR THEIR CONTINUED SUPPORT!